California Northstate University Receives Final Approval on North Natomas Medical Center Campus
February 16, 2022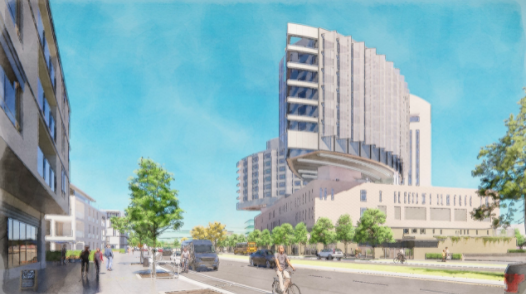 ELK GROVE, CA – California Northstate University (CNU) is proud to announce that it has received final approval on its proposed North Natomas Medical Center Campus by the Sacramento City Council during last night's meeting.
CNU's proposed Medical Center Campus at Innovation Park is a new development project headed by the Sacramento Kings organization that will transform 35 acres of the 170-acre former Sleep Train Arena in North Natomas into a vibrant mix of residential, commercial, health and educational uses.
A major component of Innovation Park is the CNU Medical Center Campus, which will feature a 13-story, 400-bed teaching hospital, college, dormitories, childcare center, senior residential care facility and supporting office, commercial and retail uses.
The project will provide hundreds of new housing units, including units for students, faculty, senior citizens, and the public with at least 10% designated to affordable housing. Plans also include 25 acres of open space with parks and bike trails.
The Sacramento City Council unanimously supported the project after reviewing an environmental impact report, rezoning and other necessary entitlements.
"California Northstate University thanks the Sacramento City Council for their diligent review and unanimous approval. We are fortunate to have the opportunity to work closely with both the Sacramento Kings organization and City of Sacramento to advance this state-of-the-art project," said Dr. Alvin Cheung, President and CEO of California Northstate University. "In addition to providing extraordinary services and acting as a hub for teaching and healing, the CNU Medical Center Campus will be a significant economic driver for the entire region."
Over the next 10 years, the Medical Center will add significantly to the economic output in the region, producing nearly $14 billion and creating approximately 87,044 new jobs.

Construction of the Medical Center Campus is anticipated to begin before the end of 2022.
To learn more about the project overview and schedule for Innovation Park and the CNU Medical Center Campus, click here.